In 1960 Dr. Robert Thompson established the first Oral Surgery practice south of Tampa. He served on Staff at Sarasota Memorial Hospital and was one of the few founding fathers of the Florida Society of Oral and Maxillofacial surgery. Dr. Robert Thompson retired in 1989 and remained active in the community until his passing in 2011.
Dr. David A. Thompson followed in his father's footsteps and joined the practice in 1989. He furthered his father's reputation of delivering excellent and ethical care. Dr. Thompson served for two decades on staff at Sarasota Memorial Hospital and held numerous local and state leadership positions.
In 2010, Dr. Thompson invited Dr. Todd J. Reuter to return to his hometown and join the practice. Dr. Reuter brought unique training in advanced bone grafting, reconstruction, and dental implants as well as offering full scope oral and maxillofacial surgery. Dr. Reuter introduced state of the art technology into our practice to offer more precise treatment planning and more minimally invasive surgical options.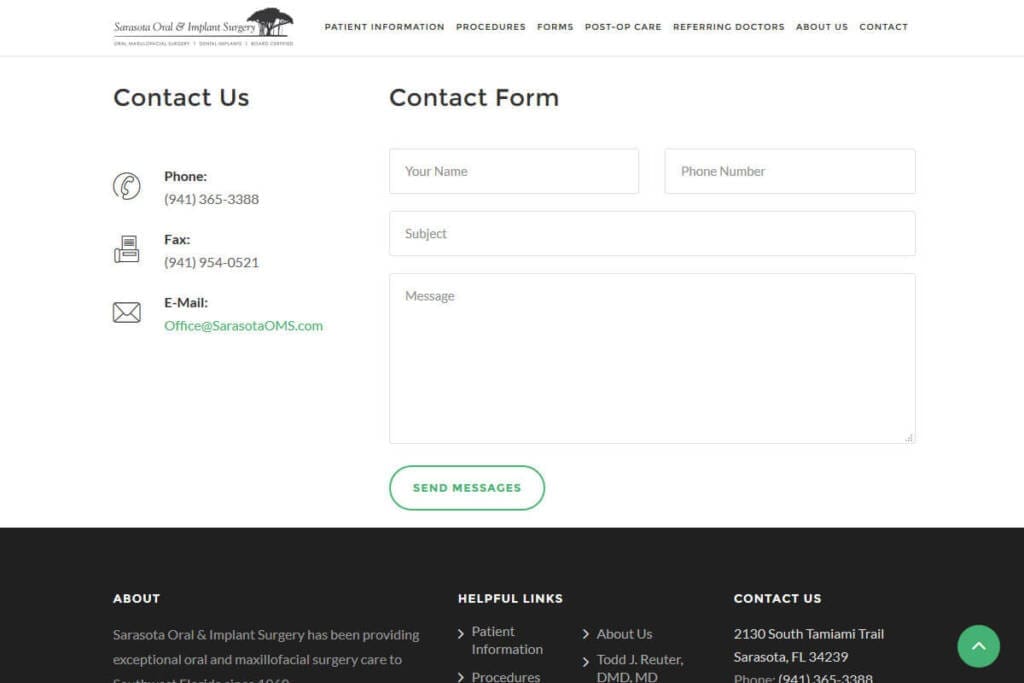 ---

After taking charge of the practice, Dr. Todd J. Reuter emphasized the importance of having a mobile-friendly and search engine-optimized website. Additionally, he sought to improve his reputation. Recognizing these objectives, we implemented a comprehensive Reputation Management strategy. Our goal was to create a platform where patients could effortlessly access valuable information and essential forms. By surpassing Dr. Reuter's expectations, we successfully delivered a website that fulfilled these requirements. Consequently, his business flourished, experiencing growth and paving the way for expansion opportunities. Our concerted efforts not only fostered enhanced patient engagement but also contributed significantly to the overall success of Dr. Reuter's practice.
---
LET US HELP YOU ON YOUR NEXT PROJECT
Embrace the full potential of your brand with us, and unlock the path to optimal reach and promotional success for your business.